All The Times Jennifer Lawrence Was Just like Us
Oscar award winning actress Jennifer Lawrence is perhaps known as one of the most relatable celebrity personalities in the industry. Let's take a look at all the times Jennifer Lawrence was just like us!
Anna Meyer
AfterBuzz TV Host & Writer
Posted On: September 24th, 2021 9:48 pm pst
Founded by Emmy winning journalist Maria Menounos and Producer Keven Undergaro, AfterBuzz TV is the artist-friendly entertainment news platform that celebrates, discusses, interviews, promotes and reports on the widest range of stars, creators and content through video, audio and article publications.
One of the most memorable moments for Jennifer Lawrence is her famous fall at the Oscars. After being nominated and winning her first Oscar for best actress in her film Silver Linings Playbook, she tripped on her way up the stairs. Even after her trip, she played it off with light-hearted jokes at her Press Conference.
While Jennifer Lawrence is quite a well-known celebrity, she often forgets just how famous she is and can be caught fangirling over others as well. In 2013 when E-news was interviewing Jeff Bridges, Lawrence got too nervous to introduce herself and tried to run away instead. When Lawrence finally gained the courage to go up to him, she was so elated when E-news asked her to take over and interview him.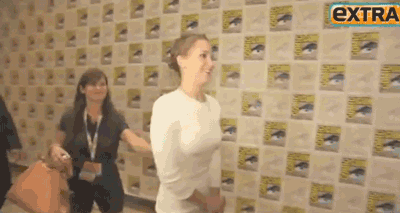 Like most of us, Lawrence loves to indulge in the occasional alcoholic drink. In 2018 while guest-starring on The Ellen Degeneres Show, she shared that she has a drunk alter ego named Gail. Lawrence describes how Gail doesn't come out every time she's drunk, but she becomes a very adventurous and brave spirit when she does. When Jennifer Lawrence drinks rum, she is no longer a cautious person and tries everything she can. Who doesn't love a fun drunk alter ego?!?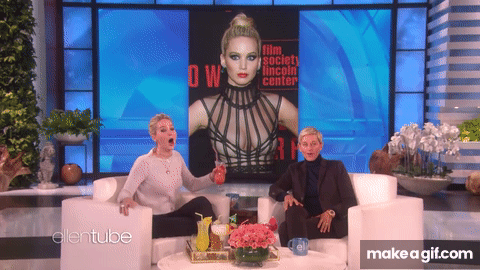 Keeping Up With The Kardashians has been a guilty pleasure for many, so it's comforting knowing that Jennifer Lawrence is right there with us. On The Jimmy Kimmel Show in 2017, Jennifer Lawrence welcomed Kim Kardashian by saying, "I have been obsessed with our first guest and her family for over a decade in a very, very healthy way." Based on Lawrence's tone when she said "healthy way," it's safe to say that she is binge-watching the show over and over, just like us.
Perhaps one of the most famous memes of Jennifer Lawrence is her during a Hunger Games Interview when she screamed, "WHERE'S THE PIZZA!" One of the best things about Jennifer Lawrence is that she is never one to hide that she is a foodie! In countless interviews, you can find her talking about how she's starving and wants to indulge on junk food when she's finished. 
What's your favorite down-to-earth Jennifer Lawrence moment? Let us know in the comments below!
Founded by Emmy winning journalist Maria Menounos and Producer Keven Undergaro, artist-friendly AfterBuzz TV is the world's largest digital broadcast network and pop culture news platform, producing post-game 'after-shows' for nearly all favorite TV shows, interviewing cast and showrunners and providing the widest video, audio and article coverage of shows, content and influencers than any entertainment news platforms in existence
"We don't just celebrate and cover the top shows, content and stars, we celebrate and cover ALL the shows, content and stars."
Maria Menounos
About The Author:
Anna Meyer is a Broadcast Journalism major at Pennsylvania State University and an intern at the positive entertainment news site AfterBuzz TV. She is very passionate about anything entertainment, especially films,  and hopes to one day have a career in the entertainment industry.
https://www.afterbuzztv.com/wp-content/uploads/2021/10/Screen-Shot-2021-10-21-at-11.00.00-PM.png
360
617
afterbuzz
http://www.afterbuzztv.com/wp-content/uploads/2020/04/ABTV_Website_logo.png
afterbuzz
2021-10-22 12:00:42
2021-10-21 20:06:06
AfterBuzz TV Loves Madelyn Cline
https://www.afterbuzztv.com/wp-content/uploads/2021/10/kourtney_kardashian_kuwtk_promo_180301.jpeg
360
640
afterbuzz
http://www.afterbuzztv.com/wp-content/uploads/2020/04/ABTV_Website_logo.png
afterbuzz
2021-10-21 19:47:35
2021-10-21 19:47:35
Kravis Fan Theories and Predictions
https://www.afterbuzztv.com/wp-content/uploads/2021/10/Screen-Shot-2021-10-21-at-3.09.14-PM.png
360
617
afterbuzz
http://www.afterbuzztv.com/wp-content/uploads/2020/04/ABTV_Website_logo.png
afterbuzz
2021-10-21 12:14:21
2021-10-21 12:14:22
Celebrity Inspired Halloween Costumes
https://www.afterbuzztv.com/wp-content/uploads/2021/10/Screen-Shot-2021-10-20-at-9.19.11-PM.png
686
1190
afterbuzz
http://www.afterbuzztv.com/wp-content/uploads/2020/04/ABTV_Website_logo.png
afterbuzz
2021-10-20 21:24:38
2021-10-23 08:33:41
Things You Need to Know Before 'Red Taylor's Version' Comes Out
https://www.afterbuzztv.com/wp-content/uploads/2021/10/Screen-Shot-2021-10-20-at-1.00.02-PM.png
360
589
afterbuzz
http://www.afterbuzztv.com/wp-content/uploads/2020/04/ABTV_Website_logo.png
afterbuzz
2021-10-20 13:15:46
2021-10-20 13:15:46
5 Reasons Why Love Quinn is the Best Character in 'You' Season 3