No matter how many years go by, we will forever be quoting 10 Things I Hate About You. Here are some of our favorite quotes from the movie!
Even after 23 years, 10 Things I Hate About You is still relatable as ever! Some of the best lines from the film come from none other than Kat Stratford, a high school girl who has helped shape many women's lives when it came to having a feminist attitude. Even back in July of 1999, months after the film was released, The Guardian had described the film as a "bright little romantic comedy, nicely and sharply written, which wears its learning winningly and lightly."
Fans have writers Karen McCullah and Kirsten "Kiwi" Smith to thank for this highly likable film. This iconic duo has also written other popular movies such as Legally Blonde, She's The Man, and The House Bunny. Not to mention the fact that we were introduced to Heath Ledger, who plays Patrick Verona in the film! Now, let's take a look at some of the best quotes from the movie!
"Don't let anyone ever make you feel like you don't deserve what you want. Go for it." -Patrick Verona
This is where fans may or may not have fallen in love with Patrick Verona. Inspiring words coming from Patrick, well, no one would have guessed that.
"You don't always have to be who they want you to be, you know?" -Kat Stratford
Kat and Bianca had always shared different views on the dating world, and that's why fans loved the two sisters, but this advice that Kat gave Bianca is relatable to anyone who struggles with being their true self. Just look at Kat, a person who was her true self and still got the guy in the end. Can you say goals?
"Romantic? Hemingway? He was an abusive, alcoholic misogynist who squandered half of his life hanging around Picasso trying to nail his leftovers."- Kat Stratford
Only Kat would say a perfect answer like this to an English teacher who urged students to read The Sun Also Rises by Hemingway. It only made fans love her more!
"There's a difference between like and love. Because I like my Skechers, but I love my Prada backpack."- Bianca Stratford
Anyone who owns a Prada backpack can testify that this is 100% accurate. Hopefully, Chasity will someday agree.
"I hate the way I don't hate you. Not even close, not even a little bit, not even at all." -Kat Stratford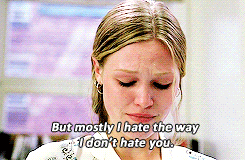 Who else was in complete tears up at this scene while eating a tub of ice cream? Her poem was a *chef's kiss*. This heartbreaking moment of Kat reading her feelings as a poem to Patrick most likely set high standards for every girl.