Celebrate "It's Gonna Be May Day" with some of *NSYNC's most overlooked tracks!
It's April 30th, which means it will be hard to resist the urge to pull up "It's Gonna be Me" on Spotify — what? It's catchy!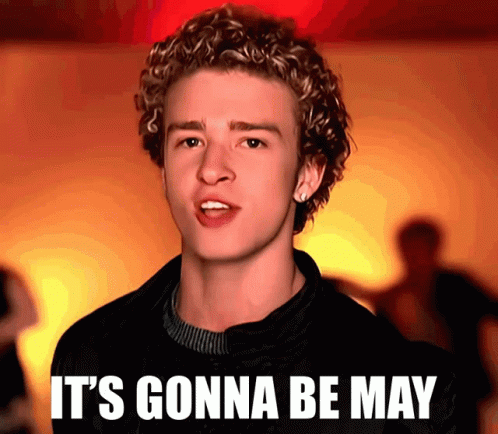 If you find yourself in the mood to blast some *NSYNC this spring but don't wanna go overboard on the classics, we've got you covered! Here are 5 of the most underrated *NSYNC songs. 
"Space Cowboy (Yippee-Yi-Yay)"
Featuring a verse by Lisa "Left Eye" Lopes, "Space Cowboy" is without a doubt one of *NSYNC's best collaborations. It's funky, it's fun and while the lyrics aren't exactly realistic, it adds to the vibe of the song. (P.S. the outfits the boys wore to sing this song on tour were without a doubt the launch of the recent space cowgirl trend.)
"Up Against the Wall"
"Up Against the Wall" is a hidden gem from the Celebrity album (Celebrity deserved better as an album — but that's a conversation for another day). This one has all the components of a perfect dance track: upbeat, fun lyrics and an infectious rhythm, making it the perfect hype song for going out on the town with your girls. 
"It Makes Me Ill"
Let's be real here — No Strings Attached is an album with no skips, and "It Makes Me Ill" is no exception. Sampled decades later by Ariana Grande, this song has one of the best hooks in pop music. "It Makes Me Ill" was definitely the song every girl dreamt her ex-boyfriend would sing to her Say Anything style.
"You Got It" 
"You Got It" is a track from *NSYNC's self-titled album that perfectly embodied their early sound. With a catchy melody and pop beat, "You Got It" is classic *NSYNC. This one also features a JC solo in the intro — need we say more?
"Just Don't Tell Me That"
Another song from Celebrity, "Just Don't Tell Me That" is one of *NSYNC's most overlooked tracks. From the beat to the lyrics to the layering of the vocals, this one is out of this world. It complements the entire album and was one of the best songs for *NSYNC to finish their career with.
What's your favorite *NSYNC song? Tell us @AfterBuzzTV on Twitter!