12 Best Cher Lines From 'Clueless'
In honor of Alicia Silverstone's birthday, we wanted to honor the woman who brought our favorite 90s girl to life: Cher Horowitz!
AfterBuzz TV Host & Writer
Posted On: October 4th, 2021 10:20 am pst
Founded by Emmy winning journalist Maria Menounos and Producer Keven Undergaro, AfterBuzz TV is the artist-friendly entertainment news platform that celebrates, discusses, interviews, promotes and reports on the widest range of stars, creators and content through video, audio and article publications.
Did you think we wouldn't wish Alicia Silverstone a happy birthday? Ugh, as if! And what better way to do that than share some of our favorite lines said by Cher from the movie Clueless. 
"Oh my God, I am totally buggin'!"
Mood.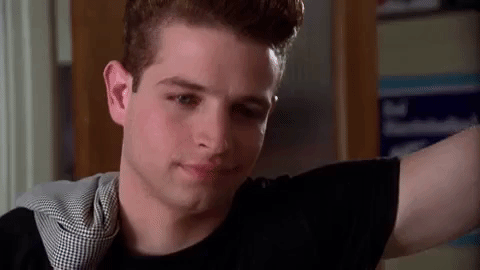 "Christian said he'd call the next day, but in boy time, that meant Thursday."
Did Cher define the dating game back in '95? We think yes. 
"Wasn't my mom a betty? She died when I was just a baby. A fluke accident during a routine liposuction. I don't remember her, but I like to pretend she still watches over me."
So much happened here, miss girl, are you okay?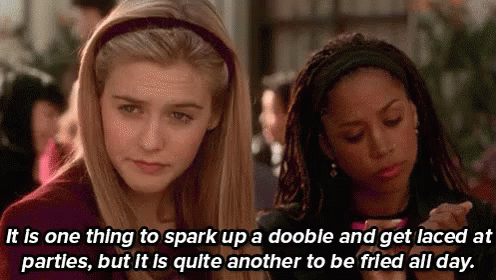 "It is one thing to spark up a doobie and get laced at parties, but it is quite another to be fried all day." 
A1 advice. 
"Even though I was alone, I was really happy for Tai. It's like that book I read in ninth grade that said, "'Tis a far, far better thing doing stuff for other people."
Truly inspirational. 
"Searching for a boy in high school is as useless as searching for meaning in a Pauly Shore movie." 
Yeah, been there, done that. Next!
"You try driving in platforms."
Honestly, now we understand your struggle, girl.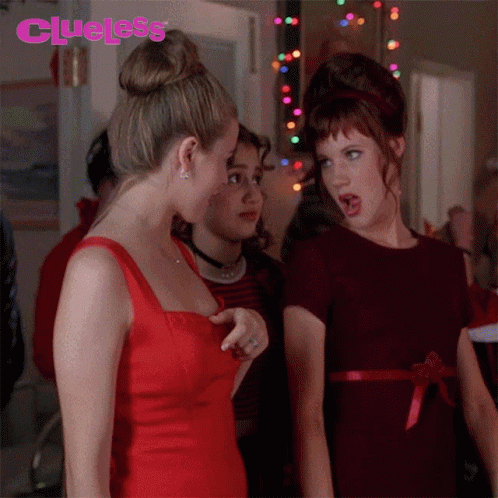 "Do you prefer fashion victim or ensemble-y challenged?"
Don't hold back!!
"It's like a painting, see? From far away, it's okay, but up close, it's a big old mess."
This quote is how I passed art in high school!
"Here's where Dionne lives. She's my friend because we both know what it's like to have people be jealous of us."
Is this some sort of twister sisters kind of thing? Either way, here for it. 
"I know it sounds mental, but sometimes I have more fun vegging out than when I go partying. Maybe because my party clothes are so binding."
We might be mental too, then, because who could pass up on sweats and a t-shirt?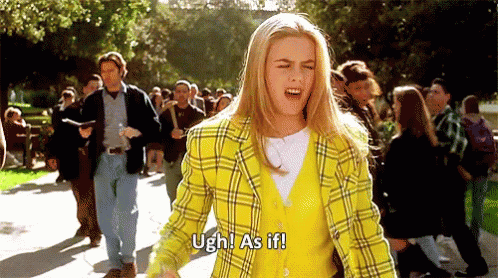 "Ugh, as if!"
Yes, this was already mentioned in the beginning, but come on, it's a classic!
Happy 45th birthday to the remarkable woman who brought the character, Cher, to life! We hope you have an amazing day. 
Founded by Emmy winning journalist Maria Menounos and Producer Keven Undergaro, artist-friendly AfterBuzz TV is the world's largest digital broadcast network and pop culture news platform, producing post-game 'after-shows' for nearly all favorite TV shows, interviewing cast and showrunners and providing the widest video, audio and article coverage of shows, content and influencers than any entertainment news platforms in existence
"We don't just celebrate and cover the top shows, content and stars, we celebrate and cover ALL the shows, content and stars."
Maria Menounos
About The Author:
Kiley Hill is a senior at Penn State University majoring in broadcast journalism focusing on TV reporting and minoring in entrepreneurship and innovation with a focus on new media.
https://www.afterbuzztv.com/wp-content/uploads/2021/10/Screen-Shot-2021-10-21-at-11.00.00-PM.png
360
617
afterbuzz
http://www.afterbuzztv.com/wp-content/uploads/2020/04/ABTV_Website_logo.png
afterbuzz
2021-10-22 12:00:42
2021-10-21 20:06:06
AfterBuzz TV Loves Madelyn Cline
https://www.afterbuzztv.com/wp-content/uploads/2021/10/kourtney_kardashian_kuwtk_promo_180301.jpeg
360
640
afterbuzz
http://www.afterbuzztv.com/wp-content/uploads/2020/04/ABTV_Website_logo.png
afterbuzz
2021-10-21 19:47:35
2021-10-21 19:47:35
Kravis Fan Theories and Predictions
https://www.afterbuzztv.com/wp-content/uploads/2021/10/Screen-Shot-2021-10-21-at-3.09.14-PM.png
360
617
afterbuzz
http://www.afterbuzztv.com/wp-content/uploads/2020/04/ABTV_Website_logo.png
afterbuzz
2021-10-21 12:14:21
2021-10-21 12:14:22
Celebrity Inspired Halloween Costumes
https://www.afterbuzztv.com/wp-content/uploads/2021/10/Screen-Shot-2021-10-20-at-9.19.11-PM.png
686
1190
afterbuzz
http://www.afterbuzztv.com/wp-content/uploads/2020/04/ABTV_Website_logo.png
afterbuzz
2021-10-20 21:24:38
2021-10-23 08:33:41
Things You Need to Know Before 'Red Taylor's Version' Comes Out
https://www.afterbuzztv.com/wp-content/uploads/2021/10/Screen-Shot-2021-10-20-at-1.00.02-PM.png
360
589
afterbuzz
http://www.afterbuzztv.com/wp-content/uploads/2020/04/ABTV_Website_logo.png
afterbuzz
2021-10-20 13:15:46
2021-10-20 13:15:46
5 Reasons Why Love Quinn is the Best Character in 'You' Season 3